The Los Angeles mod is an add on to Emergency 4 that replaces the default units and personnel with the ones found in Los Angeles. This mod includes 10 new missions and an optional free play map (to replace default free play map). Also more than 50 playable units from Los Angeles. - Highly detailed and accurate models - 10 new missions - New sirens - Directional lights and floodlights - Fire station, police station and hospital - Automatic weapons and ballistic shields - Police barricades, traffic cones and flares - Bomb robots and motorcycles - Emergency 4 Deluxe and 911:First Respondents compatible - Multiplayer compatible - English translation, voices and much more...

This mod contains 10 new missions listed below.
1. Bomb Attack Threat
2. Release of Chemical Gas
3. Bomb Alert
4. Crash At Race Track
5. Wooden Barn Caught Fire
6. Forest Fire

Edit
7. Police Chase Ends In Tragedy
8. VIP Escort
9. Children Brutally Abducted
10. Explosion In Airport Terminal
Website & Download

Edit
http://forum.emergency-planet.com/index.php?/files/file/337-los-angeles-mod-21/
Gameplay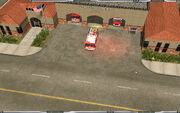 Los Angeles mod contains many new units and personnel such as:.





















































Community content is available under
CC-BY-SA
unless otherwise noted.