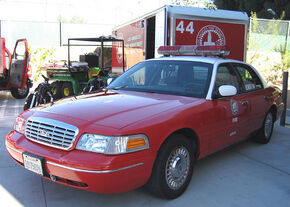 Each battalion is assigned a single EMS District Captain who's job it is to oversee the EMS program and procedures within his district. They coordinate and handle all inspections of EMS apparatus, equipment and supplies, handle the in-service training, evaluate personnel, act as a liaison to hospital staff, and respond to all emergencies requiring medical supervision. The program was created after it became clear that there was a deficiency in having non-paramedic trained captains in supervisory roles over the paramedics without anyone of rank who understands the procedures and protocols outlined by the county and department to act as an overseer district wide or on an incident. Typical responses will be to
all incidents in which 3 or more BLS rescue ambulances are assigned, or 2 or more paramedic rescue ambulances. They will also respond to all fires, physical rescue assignments, shootings and incidents involving Law Enforcement that require EMS. Their function is as medical unit leader to the incident commander and will typically keep track of who is being transported and to where, what aid is being given, notifying the incident commander (IC) if more ambulances are needed, and acting as a staging officer for the ambulances. They will also respond to most Air Ambulance calls for documentation, evaluation and supervision. Think of them as similar to a Battalion Chief but on the EMS side. While a BC is a firefighter, he isn't going to be the one with the hose running into a building. Same with the EMS Captain treating patients, they are there to oversee an incident.
Use in Game

Edit
EMS Captains are useful on major incidents for requesting additional EMS units, hotkeying the Captain so you can quickly jump to the EMS portion of a call when multiple calls or a major call is in progress, and for setting up an EMS triage/staging area at his location away from the fire and danger.